< All products to treat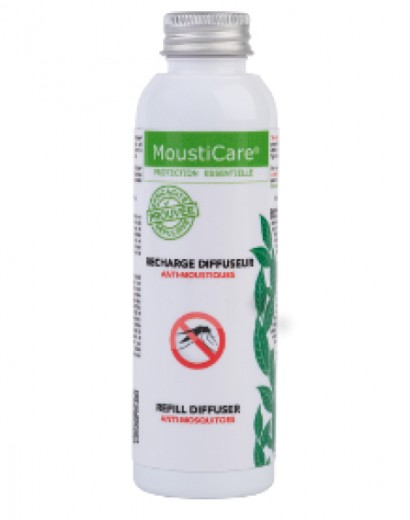 MoustiCare® Diffuser Refill
MoustiCare® Diffuser Refill Anti-Mosquitoes assures for you 1 month of tranquility, while diffusing a sweet scent of summer emitted by the essential oil of Eucalyptus Citriodora.
With its powerful active of plant origin, the diffuser MoustiCare® Anti-Mosquitoes repels the harmful mosquitoes (especially the Tiger mosquito) vectors of tropical diseases.
Without synthetic substance, without DEET.
Application advices :
Remove the cap, put the contents of the refill into the MoustiCare® Diffuser Anti-Mosquitoes, then put the rattan sticks in the bottle. The repellent diffuses by capillarity. You can adjust the diffusion by putting more or less rods and in turning them over when you want to revive the scent. Wash your hands after the handling.
For optimal efficiency, it is recommended to renew the sticks.
Made in France
N° Inentory Biocides : 44050
TP 19
Code EAN : 3401560240467
Active substance : 1.5% Citrepel
Use biocides carefully. Before use, read the label and the product information.
Utiliser les biocides avec précaution. Lire l'étiquette et les instructions d'emploi.